As independent artist and movement researcher Ludmila has collaborated and continues to collaborate with diverse other creative minds along the way. From choreographers to musicians, light sculptors and performers, they join forces for ever more ambitious projects.

On-going

[in] operabilities #2 – collaborative research linking the art form of opera with questions of accessibility, inclusivity, and of the usefulness of "opera-abilities" for living together. Each three years, a piece is created, accompanied by intensive research, networking and an open workshops. The current piece is dedicated to touch and touchability in music theater: we explore tactile and physical forms of perception and appearance of music, voice, sound and resonance. What role does tactility play in our sense of tact? How do we communicate and tell stories through touch? Can "fear of contact" be reduced and converted into energy? Who is touched by the opera?

Holding the Wind in Your Hands – a collaboration with Marije Baalman to be presented in 2024.

SUNSET a collaboration with Mike Rijnierse. Upcoming edition: Sunset in the Woods, Hangar Y, from December 13th to January 8th, Meudon, France.
Most recent projects

[in]operabilities Labor – Research presentation: Thursday, Feb 23rd, at Kampnagel, Hamburg.

Primisi – stage design, in collaboration with choreographer Alida Dors, produced by Theater Rotterdam, premiere on November 11th, 2022. Dutch tour Nov 2022-Jan 2023.

Sunset in The Hague, urban intervention in collaboration with Mike Rijnierse, presented by BlowUp Art Den Haag, October 6-9, 2022
Future Dance of Nostalgia, a collaboration with Kexin Hao, Rachwill Breidel, Leo Scarin and Pedro Gossler, produced by iii. Performed at Amare, for Proximity Music / Rewire Festival, 2022.
Future Dance of Nostalgia / Transcending Labour workout – movement research, workshops, and performances with Kexin Hao. Performed at REWIRE Festival (7-10 Apr 2022), The Hague and at StimuleringsFond 10th Anniversary (1st Sep 2022), in Schiedam. Read more: Future Dance of Nostalgia
Concept and direction: Kexin Hao
Game development: Leonardo Scarin
Choreography research: Ludmila Rodrigues
Music: Rachwill Breidel
videography, 3D rendering: Pedro Gossler
Sound mixing: Dima Ibrahim

Work commissioned by iii, during Kexin Hao's artistic residency.
Supported by: Creative Industries Fund NL, the Creative Europe program of the European Union, Stroom Den Haag, Rewire Festival 2022
How to cope with a sunset when the horizon has been dismantled stage design commissioned by Nederlands Dans Theater, Premiered on February 3rd, 2022. Collaboration with / choreographed by Marina Mascarell.
---
Sunset in Delft, light monument with Mike Rijnierse. Highlight Delft Festival, 18-20 November 2021.

Second Landscape – stage design commissioned by Skånes Dansteater, Malmö and Dance Forum Taipei, 2020. Collaboration with / choreography by Marina Mascarell.
---
Co-curation for HUBS Immersive Festival 2019. Under the moniker 'The Body of the Audience', Ludmila Rodrigues participated as partner, bringing ArtScience fellows Bjarte Wildeman and Lauren Jetty Howells-Green to present works during the immersive experience at DNR Theater.
---
Set and costumes for Fazle Shairmahomed and Farah Rahman. Performed by Fazle Shairmahomed, Devika Chotoe and An3. Premiered on October 6th, 2019 at Theater De Vaillant, The Hague. Also presented at Korzo Theater, The Hague on Feb 16th, 2020. With thanks to Fonds voor Podiumkunsten.
---
Stage design choreographed by Marina Mascarell, and light design by Mike Rijnierse. Commissioned by GöteborgsOperan Dance Company, Sweden. Première on March 15th, 2019.
---
'Polytope – immersive installation at FILE, São Paulo, Brazil 2018: with soundscape, custom software and sensors by Rob Bothof.
---
Häxan, performance for Mariska de Groot/iii, at Sounds of Silence Festival III, Theater De Nieuwe Regentes, The Hague – February 24th 2017.
---
'Three Times Rebels', stage design for dance piece by Marina Mascarell, Korzo Theater / Dance Forum Taipei, 2017-2018.
---
Antrik – participation in music video by Yamila, 2017.
---
Polytope research with Sonolab duo (Vitaly Medvedev and Mei-Yi Lee) and Fazle Shairmahomed. First performance at No Patent Pending #17 on December 2015.
---
'Atlas, Sheep Herder of the Sky' performed with Mei-yi Lee and Matteo Marangoni at Sphæræ (inflatable multi-dome pavilion by Cocky Eek) at EAP-Lab – The Hague, July 5th 2015.
---
Costume design for dance pieces by Rutkay Özpinar. Korzo Theater productions:
• Şeytan tüyü (Here We Live and Now, November, 2015)
• Grip (May, 2015)
• As if you weren't (November, 2014)
---
K24, Room for Sensory Cleansing, with Mike Rijnierse, site specific for Modern Body Festival, November 2014.
---
Artistic residence –The Conscious Body II– Cognitive neuroscientists and dance makers share perspectives on conscious perception and empathy. Workshop led by choreographer Robyn Orlin and neuroscientist Natalie Sebanz. Organized by Asaf Bachrach/Labodanse and hosted by La Briqueterie, Paris (France, 30/9-5/10 2013).
Participants/artists/scientists: Ella Ben Aharon (Israel), Anne Bogard (France), Faye Driscoll (USA), Gabriel Greca (Argentina), Jurij Konjar (Slovenia), Ananda Montange (France), Alexandre Münz (France), Peter Pleyer (Germany), Ludmila Rodrigues (Brazil / Netherlands), Daniel Zea (Composer, Colombia/Switzerland), Fabrizio de Vico Fallani (France / Italy), Julie Grèzes (France), Arnaud Halloy (Belgium), Ivana Konvalinka (Hungary / Denmark), Giovanni Pezzulo (Italy), Nicola Rebeschini (France / Italy), Gabriele Sofia (Italy / France), Berangere Thirioux (France), José Luis Ulloa Fulgeri (Chile / France), Camila Valenzuela Moguillansky (Chile / France).
---
Volta 2013 – after Dick Raaijmakers' Volta 1995: an homage to Alessandro Volta, who for the first time in history, tried to construct an electric battery later to be called the 'voltaic pile'. Re-enactment by Michiel Pijpe / Artscience Interfaculty. Ludmila Rodrigues joined the edition at Paradiso, Amsterdam, in March 2013.
---
The Unreality of Time – Set design for a dance piece by Marina Mascarell (photo by Robert Benschop), Korzo Theater/Dance Forum Taipei, January-February 2013.
The stage is covered by 110 kilos of green lentils, which were manipulated by the dancers in order to create storms, landscapes and other obstacles within the theme of time. Ludmila worked with Marina since August 2012, exploring the properties of the lentils and designing the tools for the dancers to manipulate them. Lentils seem familiar and ordinary, and yet they move in their own ways, behaving like they're trying to escape and occupy all spaces.
---
Performances with Hadas Hinkis 2010/2011.
---
Performances for Cocky Eek: 'Air hostess' at Seppe Airport, The Netherlands, June 2011.
Hostess of Striped, inflatable blob by Eek, performed with Wen Chin Fu, at Kunst in Zicht Festival, Marken, Netherlands, June 2010.
---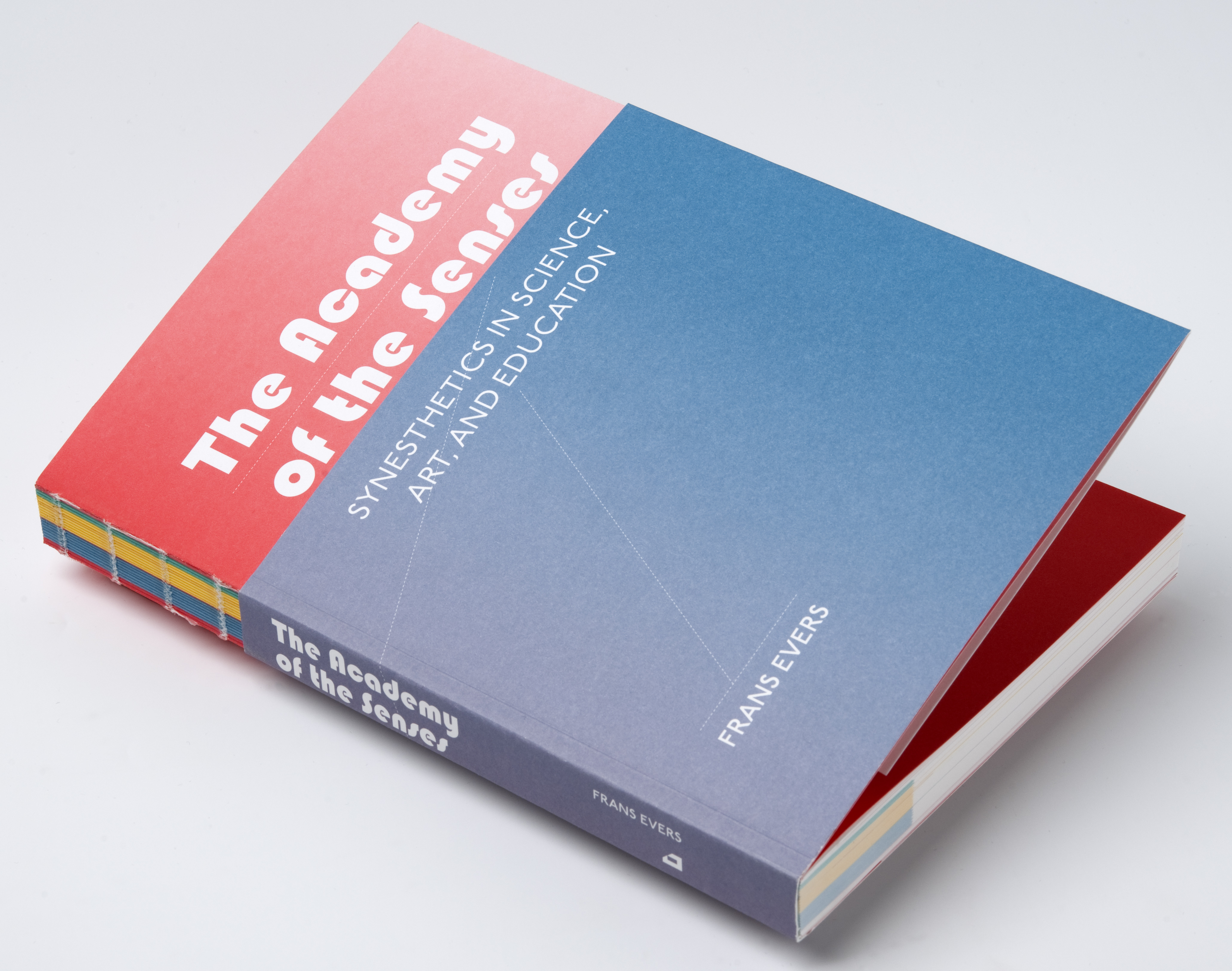 Iconography assistance to the publication "Academy of the Senses –Synesthetics in Art, Science and Education, by Frans Evers. ArtScience Interfaculty Press 2012. A compilation by Vincent W. J. van Gerven Oei ; editorial team: Vincent W. J. van Gerven Oei, Joost Rekveld, Eric Parren; iconography: Joost Rekveld, Isabelle Vigier, design and production: Isabelle Vigier; impression: Raddraaier, Amsterdam.